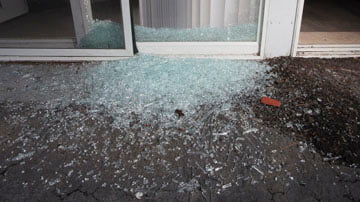 Is your sliding door glass cracked, or completely broken? This is a source of great danger to you and is subject to emergency repair.
The 24hr Sliding Door Repair experts take care of their customers and provide same-day glass replacement services.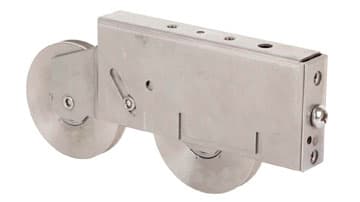 The professionals at 24hr Sliding Door Repair are here to solve your poorly working sliding door roller problem.
Our technicians have all the necessary parts and tools in their arsenal to repair or replace your broken sliding door rollers and wheels.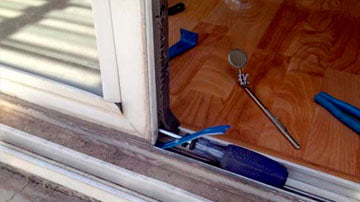 Repairing sliding door tracks seems like something simple and appropriate for a do-it-yourself project, but it's not.
Let the 24hr Sliding Door Repair professionals perform quality track repairs so you don't have to face complications and pay double the price.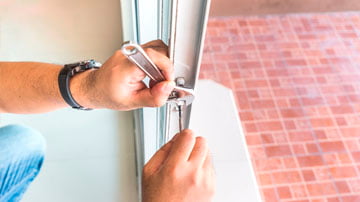 Since sliding door locks are used frequently, breakdowns and malfunctions of all kinds are not uncommon.
But worry no more, 24hr Sliding Door Repair provides lock maintenance, emergency replacement, or repair of sliding door locks of any configuration.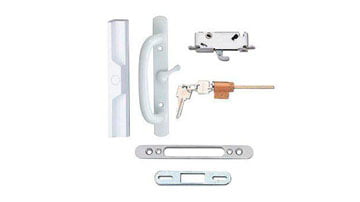 The handle is the most used part, and damaging it can cause a lot of unpleasant hassle as well as affect your sense of security.
Сontact 24hr Sliding Door Repair, and we'll take care of your broken sliding glass door handle to restore it to its former functionality.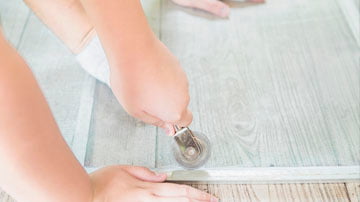 If your window or screen door needs an inspection, maintenance, replacement, or emergency repair, 24hr Sliding Door Repair technicians can handle it like no other.
Our experts handle all types of sliding screen door repairs, just give us a call and we'll get it fixed.
Comprehensive and Quality Services
We do more than just repairs for our sliding door solutions. As specialists in sliding doors and windows, our team can also take care of replacements, installations, and tune-ups.
Repairs
As our company name implies, we focus on repairs. Our crew has years of experience in this type of work, and we leverage our skills and knowledge to address various issues with your doors and windows.
Sticking Doors: There's nothing more bothersome than sliding doors that stick instead of glide. This issue can be caused by an array of things, from misaligned rollers to track debris or dirt. We'll assess your doors in order to find and fix the problem.
Broken Sliding Door Lock Mechanism: Having a broken lock is more than just an inconvenience. It's a security risk that must be resolved as soon as possible. Thankfully, our sliding door repair services include fixing lock issues.
Malfunctioning Sliding Door Wheels: Issues with the rolling wheels can make it difficult to close or open your sliding doors. We'll check if these are broken, corroded, or misaligned and fix the problem as needed.
Issues With Glass Panes: We also offer windows glass repair services. Whether you have foggy glass or broken glass, our crew will take care of it.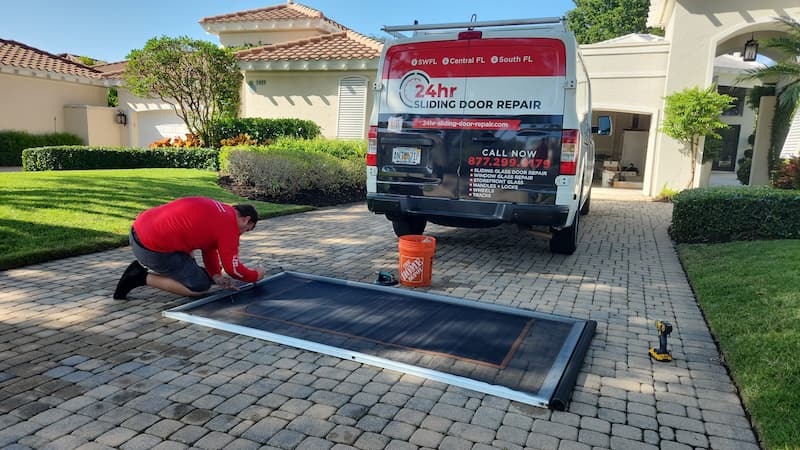 Replacements
There are times when repairs are no longer feasible. You may need to replace entire panels or sliding glass door systems. Thankfully, our team provides frame, lock, panel, and glass replacement solutions. We'll assess the extent of the damage and provide recommendations about the parts that need replacing.
In addition, we can source these components from trusted manufacturers and install them on your property — even special parts. So whether you have an extremely warped frame or ill-fitting panels, we'll handle it all.
Installations
Sometimes, you want new features on your sliding doors like a modern lock mechanism, sliding door weather stripping, or a better type of glass. You might also need a new sliding glass door system for a room addition. Whatever the reason, we can come to your property to install new parts or entire sliding door and window systems.
Tune-Ups
If it's not broken, don't fix it. This saying  is popular, but it's not always true. Sometimes, you have to check on stuff like your sliding glass doors and find any issues before they can become better problems. That's why our repair services include tune-ups. We'll check your doors and windows and ensure that everything is working as it should. Should we spot any problems, we'll recommend what you can do and even offer our services. We can:
Clean the tracks so the panels glide more easily.
Polish and oil rusted screws and hardware.
Check for signs of misalignment.
Solutions for All Types of Sliding Doors and Windows
We don't just repair glass doors and windows. Our sliding door repair solutions include other types of residential doors. These solutions include:
Patio Door Repair: Let us take care of your patio's doors and keep them in tip-top shape. That way, the doors can last for longer and withstand the hurricanes that regularly visit the area.
Mosquito Screen Door: Miami may be blessed with tropical weather and beautiful swamps, but that also means mosquitoes and other pesky insects. We'll repair or install mosquito screen doors on your property to keep these insects away from your family and pets.
Team of Dedicated and Professional Experts
As an established sliding glass door repair company, 24hr Sliding Door Repair is bonded, insured, and accredited by BBB. More than being a trustworthy business, we go above and beyond to provide exceptional services to our clients. Our team is honest, reliable, and works with integrity. In addition, we work fast and efficiently within your budget and timeline, while still delivering great results.