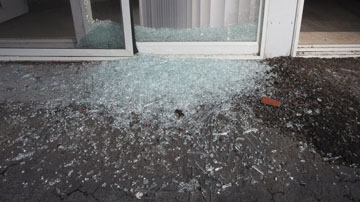 Shattered sliding door glass is not safe for you and any other inhabitant of your home. Never waste time if you find yourself in such a situation, just give us a call and we'll fix it for you. 24hr Sliding Door Repair professionals offer same-day and emergency sliding door glass replacement services since your safety is our responsibility.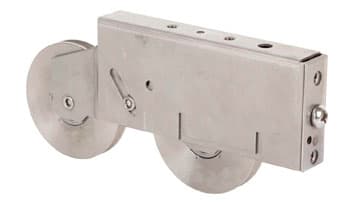 Are you facing a challenge with your sliding door rollers? No worries.
24hr Sliding Door Repair has all that is needed to get the repair and replacement of your sliding door rollers or wheels.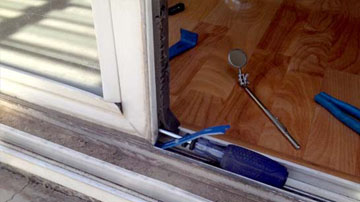 Sliding door track problem? You have nothing else to worry about.
Don't be tempted to go the DIY way, as it can only lead to further complications which would be more costly to repair. Let 24hr Sliding Door Repair experts handle your case seamlessly, with the right expertise.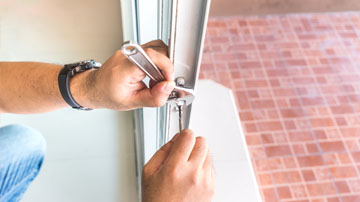 If you have any problem with your sliding door locks, contact 24hr Sliding Door Repair. We deal with lock repairs for jammed sliding doors as well as replacement and maintenance of locks. We have the answer to all your sliding door lock problems.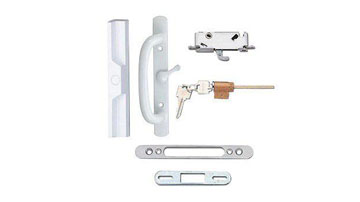 If your sliding door handles ever get damaged, don't get stressed up over it as we are always ready to help. All you need to do is to put a call through to 24hr Sliding Door Repair, and we will take charge.
A well-functioning sliding door is your home safety and peace of mind.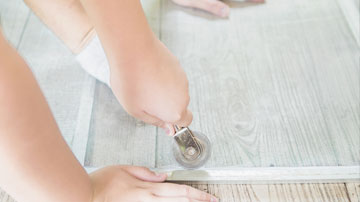 24hr Sliding Door Repair will find and present you the best options for repairing sliding doors and windows.
We can service your door screen replacement and windows for affordable prices.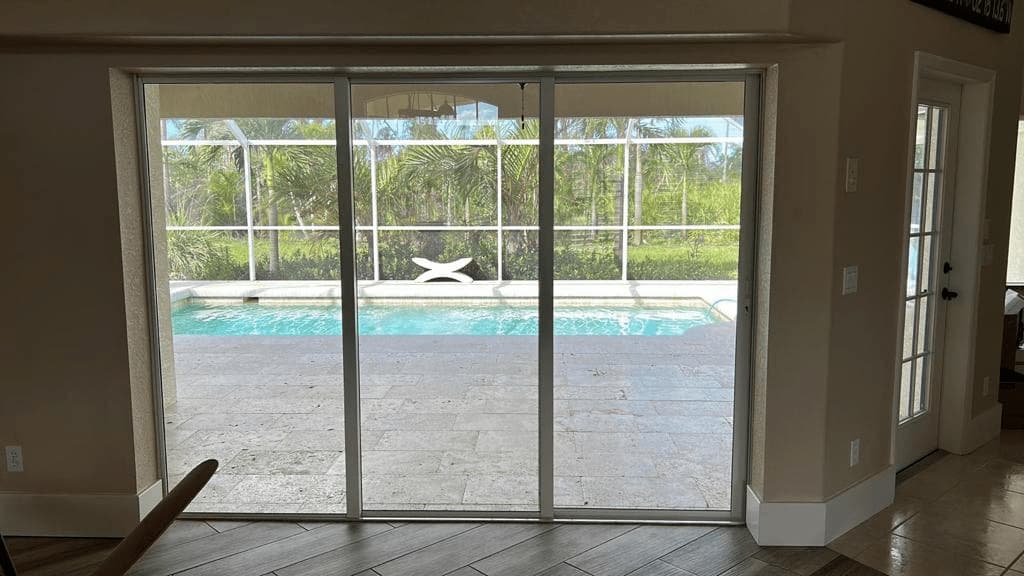 Shattered Glass Repairs
Aside from letting the elements and creepy crawlers inside your home, shattered or cracked patio door glass is a potential hazard. It also interferes with your heating, ventilation, and air conditioning (HVAC) system since the crevices disrupt the internally regulated temperatures, increasing energy consumption.
We understand the urgency of having repairs for this issue. We provide same-day replacement services. Our technicians are professional, fast, and efficient in fixing broken glass on sliding patio doors. We also respond to emergency calls in Hernando County.
Sliding Door Ball Bearings Repairs
The ball bearings are an essential part of your sliding glass door. They reduce friction, carry the load of the patio door, and help in positioning. The weight of their work increases their vulnerability to wear and tear. A malfunctioning roller will produce a seamless sliding effect on your door.
Our technicians repair ball-bearing-related issues, improving the wheels' performance. They also provide maintenance services to enhance the longevity of the wheels.
Sliding Door Track Repairs
We provide the best track repair services in Hernando County. Call us if
Your patio door is completely run down
The track has obstructions like dirt, dust, and debris interfering with the sliding process
The sliding door pops off the track when moved
You spot rust and corrosion on the track
Our seasoned technicians handle all track-related problems with precision. They are available 24/7 to offer this much-needed service.
Sliding Door Locks and Handle
Locks and handles in your patio door are prone to breakdown because they are high-traffic features. For security reasons, these two sliding door issues require immediate repairs. Our technicians have experience fixing all types of sliding door locks and handling problems. They also prioritize your safety by responding to emergency calls for lock and handle situations. 
Why You Should Partner with Us 
We understand Florida weather and its impact on your sliding door features. Our specialty and availability give Hernando County residents peace of mind knowing they can rely on our repair services any time of the day and time of the week.
We provide the best prices without compromising on service quality. We also prioritize urgency and value the safety of our customers. Call us today at (877) 299-9179 or leave us a message for inquiries.