24HR Sliding Door Repair does not just focus on fixing sliding door issues. We also specialize in providing high-quality sliding door parts for residential and commercial spaces. We carry a wide range of products and components for various needs, ensuring smooth and efficient operation for your sliding doors. With a focus on customer satisfaction and top-notch craftsmanship, we are committed to sourcing and installing the right hardware for your systems. Check out our new catalog of sliding door repair parts!
A Wide Range of Products Available
Many types of sliding door systems exist, both in residential and commercial properties. Some have only basic features while others are more advanced and have many additional functionalities.
Whatever the case is, these systems are vulnerable to damage due to aging, weather exposure, and physical impact. Repairing these issues immediately can help avoid further damage and prolong the lifespan of the doors or windows.
Many homeowners may attempt to DIY these repairs, but they have no idea where to get the parts needed. Thankfully, our company carries a wide range of sliding door products for various types of systems. Whether you need a new hinge for a broken window or wheels to fix sticking panels, we have just what you're looking for.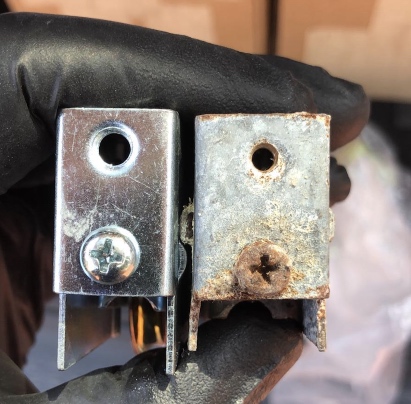 Sliding Glass Door Systems
We have parts for sliding glass door systems, all designed to enhance the aesthetic appeal and functionality of your panels. The options range from energy-saving glass to premium ball bearings.
With these high-quality materials, your sliding glass door systems will be durable, secure, and energy efficient. Our team will guide you through the selection process to find the perfect parts for your needs.
Wheels
Rollers
Tracks
Handles and locks
Frames
Patio Doors and Mosquito Doors
The East Coast's water features are a sight to behold, but these may harbor pests like mosquitoes. Patio and mosquito doors create a seamless transition between your indoor and outdoor spaces, providing unobstructed views and keeping out insects and pests. However, extreme weather, aging, and everyday wear and tear make these doors less effective at what they do.
For any issues you encounter with these systems, we can supply the parts you need for repairs. Our selection of high-quality parts and components allows you to customize and maintain your mosquito screen doors with ease. Here are some of the parts you can find in our catalog:
Mosquito screen panels
Special parts for screen doors
Roller systems
Screen frames and tracks
Magnetic closures and automatic closer systems
Storefront Doors and Window Systems
Whether you are renovating your storefront display or addressing specific maintenance or repair needs, we can provide top-quality parts and components for storefront doors and windows. We have a wide selection of components for use in a wide array of configurations. In addition, our installation services help ensure the smooth operation, durability, and security of your storefront windows. Some of the items in our catalog are:
Various glass options
Window and door tracks
Frames
Decorative handles
Automatic lock mechanisms
Upgrades and Accessories
Revitalize your existing sliding doors with our comprehensive range of upgrades and accessories. From improved hardware and track systems to enhanced security features and weatherstripping, we have everything you need to optimize the performance and longevity of your sliding doors.
Security enhancements
Energy-saving upgrades
Soundproofing
Weatherstripping and insulation
Motorization upgrades
Sourced From Top-Brands and Manufacturers
At 24HR Sliding Door Repair, we take pride in sourcing our products from the industry's top brands and manufacturers. We understand that quality is the top priority when it comes to sliding door repair. That's why we partner with manufacturers known for their superior craftsmanship, innovation, and reliability. By choosing us, you can have peace of mind knowing that the sliding door products and components we provide are built to last, offering exceptional value and satisfaction.
Installation Service Inclusion
Once we have your door and window parts, we offer professional installation services to ensure that your sliding door products are installed correctly. Our team of skilled technicians has extensive experience in handling various sliding door systems and components. With meticulous attention to detail and adherence to industry best practices, we can guarantee a hassle-free installation process. Enjoy your new sliding doors without any worries!
Locations
As of now 24HR Sliding Door Repair Parts will be available for shippings only in the state of Florida.
Additional Locations will be announced soon.
For inquiries or any questions, you can call 877-299-9179.
Shipping Policies
Stock items – within 24 hours within receipt of the order item/items will be shipped to the customer.
Non-Stock – 2- 4 weeks or as specified.
Returns
Stock items – 30% restocking/handling fee will be applied for reasons other than 24HR Sliding Door Repair Parts errors.
For non-stock items, special orders, all sales are final, no returns will be accepted.